Dirty Minds needs you! (only if you have a hairy ass!)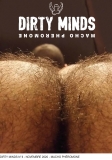 For one of our next issues called "Macho Pheromones", we are looking for a nice picture of a very hairy ass, like this one. It must be sharp, in high definition (in large format) and vertical, like this one. It doesn't matter what colour your hair is. Be careful also with the background of the photo, it must be neutral, like this one.
The most beautiful and hairy ass will make the cover page of this edition dedicated to smells, hairs, workers and all those who perspire man. The other photos received will be published in this edition in a smaller format. Don't forget the nickname you want to publish with the photo.
Please, send your picture to dirtymindsmag@gmail.com
Hairy asses, it's up to you!